(For your listening pleasure, play this song,
Head Hex Games
while reading this post:)
So in my continuing quest to find the perfect dungeon crawl game, I'm Kickstarting a new one called
Gloomhaven
which looks innovative and interesting.  I was hoping to be able to use my recently completed
thin walls modular dungeon set
BUT THE DUNGEON IS A HEX SYSTEM!!!  AAARGH!  I
posted on the forums
to see if I could easily convert the game to a traditional grid but alas, the answer was, "No."  So, here goes another dungeon build but in hex mode.
There is a
Print and Play
version of the game to try out, which I really appreciate.  So I was able to print out one of the game tiles: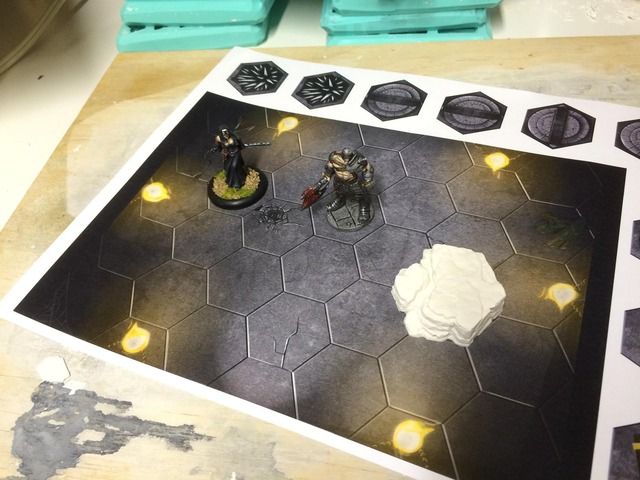 The hex is 1.25" wide so Bruce's 1.5" hex tile works great.  I looked into making custom 1" hex tiles but it is too small for my overflowing minis so 1.5 is good.  As always, I can't buy just one mold and I try to hit the 5 molds mark to get the 10% discount so last minute, I threw in both trench plank molds.  I was able to make four casts last night and hit the dehydrator:
Here is how the hexes turned out (this is from one cast):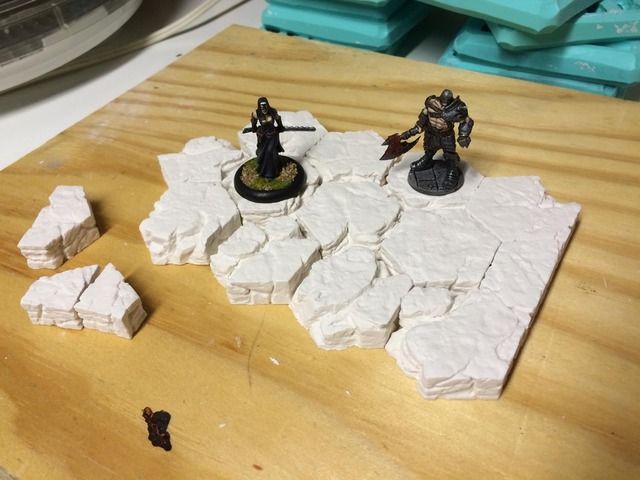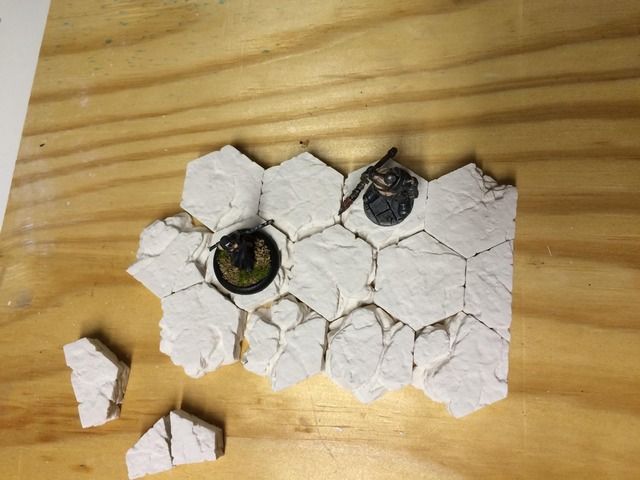 I'm not sure if I am going to use the really crumbly hexes as I typically just glue floor pieces together edge-to-edge and there isn't enough surface on them to hold.  Unless I base them somehow, I will have to just use the whole hexes instead.  The hexes are already tall so I'm inclined not to base them but I'll decide later after painting.  Also, I was worried that on the whole hexes, the edges weren't distinct enough and that I would have to shave down the sharp edge but now that I look at it, I don't think I have to do that.  Finally, I considered doing half-pours to reduce the height down to 1/4" but I sort of like the thicker tiles.  
I think the 30mm base on the battle nun looks good with the 1.5" tile.  This means I will be able to proxy in all of my Shadows of Brimstone minis (Gloomhaven comes with hero minis but all monsters are 2-D standups).
All right!  Onto the walls.  I am considering doing all wood walls, all ruined fieldstone walls or a combination of both.  Here are photos of every iteration including wood walls with and without vertical support pieces and at 1.5" tall and 1" tall variations: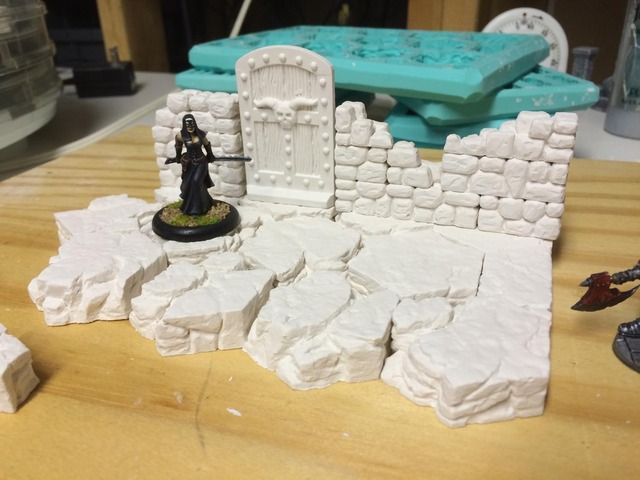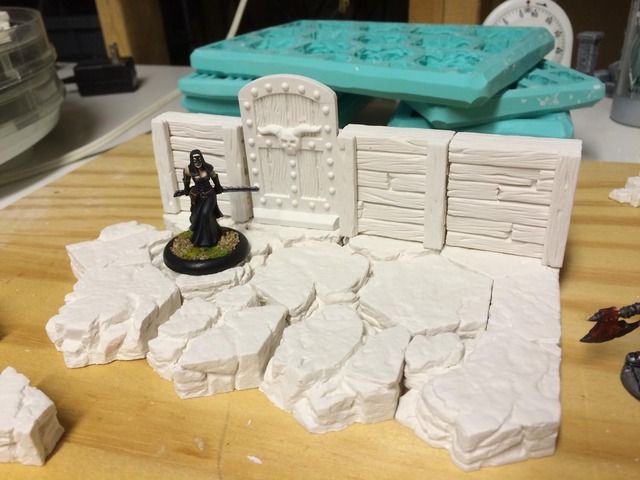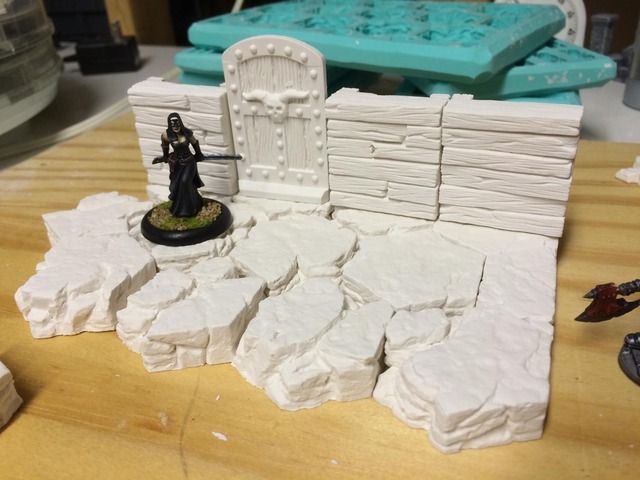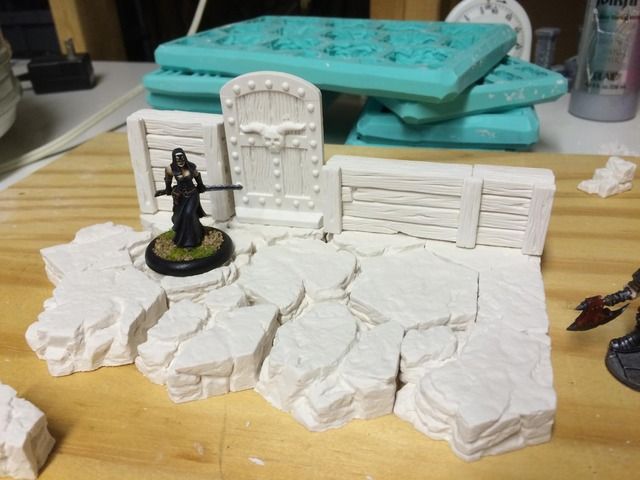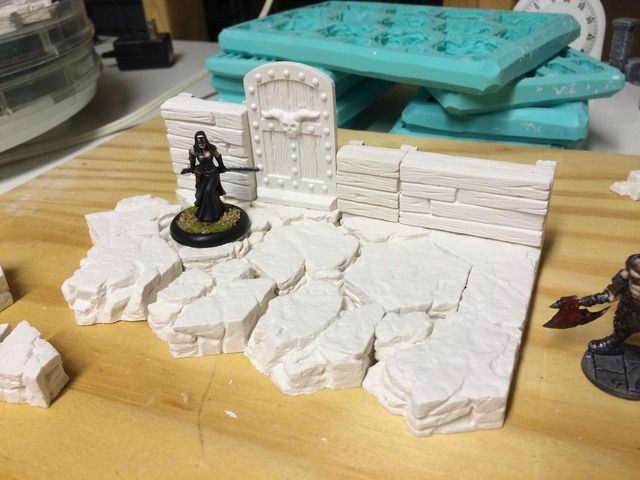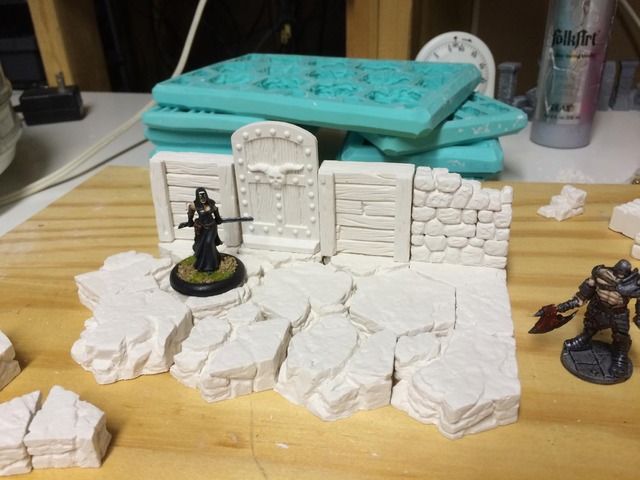 Also, by gluing the wood walls back to back and putting on vertical supports makes for really fat walls!  Fortunately, the hex is large enough that there is plenty of space: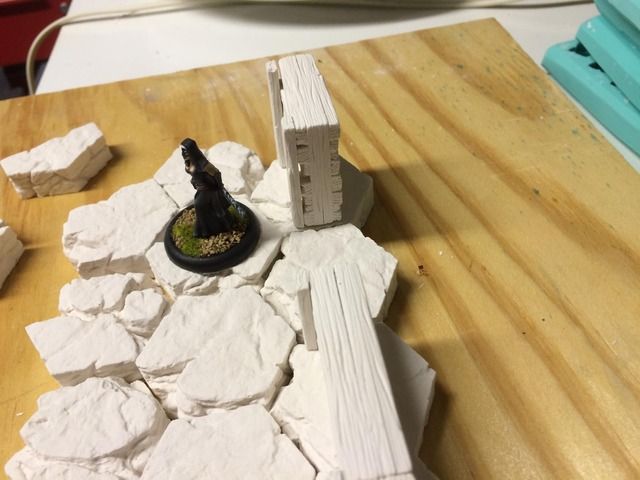 Opinions, thoughts, input?  Should I do all one style of walls or combo?  1.5" tall wooden walls, 1" tall wooden walls or combo of both?